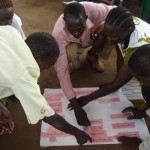 Wide-ranging interest and experience in evaluation from external evaluation of international projects to developing tools for individual trainers to evaluate their own sessions.
Structured participative approach to evaluation, engaging with as wide a range of stakeholders as possible.
Specific focus on:
qualitative and quantitative data collection
knowledge, skills and attitudinal change
impact at the level of the individual, group/team and institution
sustainability
development of skills in evaluation by participants
shared ownership of final evaluation reports.
External evaluator for:
Skills for Democracy – led by the Council for Education in World Citizenship – Cymru, funded by the Welsh Assembly
Learning About Others, Learning About Ourselves, a project using an approach to learning and teaching called Open Space for Dialogue and Enquiry (OSDE) in the UK and in partnership with seven other countries, led by Mundi, University of Nottingham, funded by DfID
Rebuilding post-conflict communities through literacy and conflict resolution, led by Education for Development in Guinea and Sierra Leone, funded by The National Lottery, The Diana Memorial Fund and Comic Relief
Global-ITE, an international collaborative project involving initial teacher education in Kenya, India and the UK, led by Global Dimensions Trust, funded by DfID
Publications, workshops and seminars on evaluation including:
Leading the Evaluation thread to the Global Trainer Advanced Certificate at the Institute of Education, London, involving workshops, seminars and e-discussion
Working with a range of organisations and projects developing, implementing and reviewing their evaluation strategies
Co-author of Evaluating Development Education: a toolkit for trainers London: DEA
Working with trainers, tutors and lecturers developing tools for effective evaluation
Leading an e-discussion for the Development Education Exchange in Europe (DEEEP) on Peer Learning in Evaluation